Buy ravioli capresi online
From the Island of Capri to your door in just 24 hours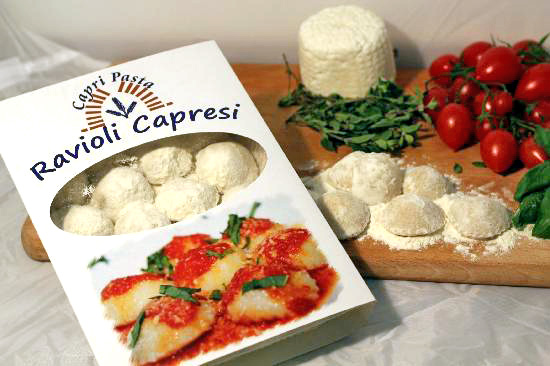 €14.00 per package (20 ravioli)
Shipping €16.00 (any size order)
24 hour delivery
Do you want to enjoy the island flavor of fresh ravioli capresi at home? It's easy!
Our ravioli are prepared daily and shipped across Italy in thermally insulated containers with DHL's Express for Food service.
From our kitchen to your table in just hours.
Delivery: from Tuesday to Friday.

More information (pdf)
Purchasing
Complete the form, indicating the number of packages you would like. Each package contains 20 ravioli.
Portions: if served as a main course, consider that 10 ravioli make a generous portion.
If served as one of several courses, 5 ravioli will suffice per person.
Preparation
Classic method

Cooking time: 4 minutes

- Boil the ravioli in a large pot of boiling, lightly salted, water.

- Drain while still al dente, to avoid the ravioli breaking open.

- Serve with a simple tomato and basil sauce.

Otherwise, serve with melted butter and sage, and a light dusting of parmesan cheese.

Fried

Cooking time: 1-2 minutes

- Deep fry in peanut oil heated to 180°C.

Serve as a delicious appetizer.
Storing
Ravioli must be stored immediately in the refrigerator, or can be frozen.
They can be stored in the freezer for about one month past the expiration date.
Ingredients
Pasta: wheat flour, water, salt, olive oil.
Filling: caciotta cheese, eggs, Parmigiano Reggiano (Parmesan cheese), marjoram.